CAPTION table
We want you to be free to join in panels and workshops, so instead of renting out individual tables we have the CAPTION table, run by CAPTION gofers. You can leave your minicomics on the table in the morning and in the evening collect the unsold copies and the money for the sold copies minus 10%.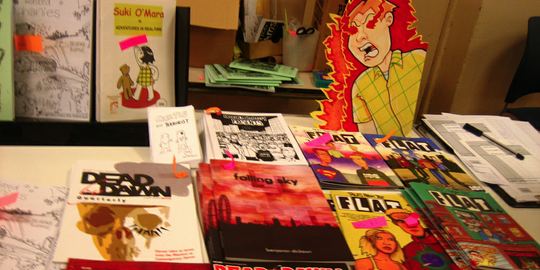 Photo by Jenni Scott
The reason for this unusual system is that we tried having a full-on dealers' room at one of the first CAPTIONs and it was not much fun because our friends were trapped behind their tables the whole day. (There are a couple of other tables, but they are special cases.)
On the day
You don't need to book in advance to sell your comics on the CAPTION table—just bring them with you when you sign in at the start of the day. We'll ask you you to fill in a little form saying how many of them there are, and ensure they are labelled with a price, to make things easy for the gofer staffing the stall.
During the day the gofer will keep a tally of copies sold. Don't forget to settle up and collect your unsold copies before you leave. We retain 10% of the money raised to go towards running CAPTION.
If you want to grab a copy of your comic from the table to give away or swap with someone, please make sure the gofer staffing the table knows so they can adjust the form so the numbers add up at the end of the day!
There will be an area of the table reserved for freebies. If you leave comics etc. there, please take responsibility for taking away or disposing of any leftovers at the end of the day to help us avoid waste. Thanks!